As early as 2009, the equity transfer was approved by the board of directors, and now it is finally listed for trading. On March 15th, Jinrui Technology listed on the Beijing Equity Exchange to transfer its 13.33% stake in Elephant Venture Capital Co., Ltd. The price is planned to be 50-60 million yuan.
For the transferee, Jinrui Technology listed a series of requirements, and compared with the initial investment cost of 20 million yuan, Jinrui Technology, which is mainly engaged in the research and sales of electronic basic materials, has a sufficient price for the transfer of elephant investment equity. The foot is 60% higher. Not only that, but in more than a year after the board of directors approved the transfer, Elephant Investment also "requited": Jinrui Technology's net profit in 2010 was 27.94 million yuan, and net profit after deducting non-recurring gains and losses was 17.66 million This year, the elephant investment contributed nearly 3 million yuan of investment income to Jinrui Technology, accounting for 10.7% of the current net profit.
Public information shows that Elephant Venture is an investment company incorporated in Shenzhen. It was formally established on December 4, 2001. The operating period is until December 4, 2011. The registered capital is 150 million yuan, and the scope of business includes direct investment. High-tech industries and other technological innovation industries; venture capital entrusted to manage and operate other venture capital companies; investment consulting business; direct investment or participation in the construction of business incubators, etc. The main shareholders are Jinrui Technology, Hunan Dice Technology Development Co., Ltd., Beijing Zhonglian Jingkong Technology Development Co., Ltd. and Shenzhen Yingyuntong Investment Development Co., Ltd.
On November 20, 2009, Jinrui Technology issued a board of directors announcement that, according to the company 's development strategy, the company will focus its funds on bigger and stronger main businesses with certain competitive advantages, from those who do not have competitive advantages and have little relationship with the main business. The industry gradually withdrew from the industry, so the company is now deciding to transfer the entire shareholding of Elephant Investment Co., Ltd. Also in this announcement, Jinrui Technology disclosed the relevant situation of elephant investment. It turned out that Jinrui Technology invested in elephant investment in 2001. After the capital increase and expansion of shares in June 2002, the registered capital of elephant investment increased to 150 million yuan, Jinrui Technology contributed 20 million yuan, accounting for 13.33% of the company's total investment. As of December 31, 2008, the company's audited total assets were 172,422,600 yuan, net assets were 166,456,500 yuan, net profit was 5.7166 million yuan, and accumulated investment dividends of 7 million yuan for Jinrui Technology.
Coincidentally, since November 2009 when Jinrui Technology announced the transfer of the equity of the elephant investment it held to early March 2011, the elephant investment has accelerated the pace of cashing in profits. According to the short-form equity change report disclosed by Jinyu Group on March 4, 2011, Elephant Investment, as a second shareholder, was lifted from the restricted shares on July 12, 2007 to March 3, 2011. A total of 14.94 million shares of Jinyu Group have been sold through the trading system of the Shanghai Stock Exchange, accounting for 5.32% of the total share capital. The price reduction range is 8.73 yuan / share to 19.98 yuan / share, of which from December 2010 to March 2011 On the 3rd, a total of 2.02 million shares were reduced, accounting for 13.5% of the total shareholding reduction, and the average cash out was 29.08 million yuan.
This has brought a huge return on investment for Jinrui Technology. Jinrui Technology 's 2010 annual report shows that during the reporting period, the company received an investment income of 3 million yuan from Elephant Investment, which accounted for 10.7% of the company 's current net profit, an increase of 60% from the investment income in 2009. Elephant Investment's performance growth dividends.
After this reduction, Elephant Investment still holds 26.26 million shares of Jinyu Group, accounting for 9.35% of the total share capital, and remains the second largest shareholder.
The above information source "Venture Investment" is authorized by the China Venture Capital Research Institute (CVCRI) to publish it. All rights reserved. Please indicate the source when reprinting. For more information, please click download to view all articles.
Contact number 400-609-6665 800-999-3099
E-mail:
Nylon Backpacks : For your daily commute, school, or embarking on a longer journey, find the backpack to fit your needs from us.
Nylon backpacks are always lightweight and waterproof, and you can wash a Nylon Backpack. they are safe to put in the washing machine (If the bag has leather trim, don't machine-wash.)
We've got every style and colour to match your look from black, blue and metallic to graphic prints and stripes. Browse our wide collection of women's backpacks including mini and Leather Backpacks. With a number of sizes, materials, and colors to choose from, we have purses and handbags for every style and occasion. Here you can find any handbags, backpacks, wallets that makes it easy for women to get around, countact us now!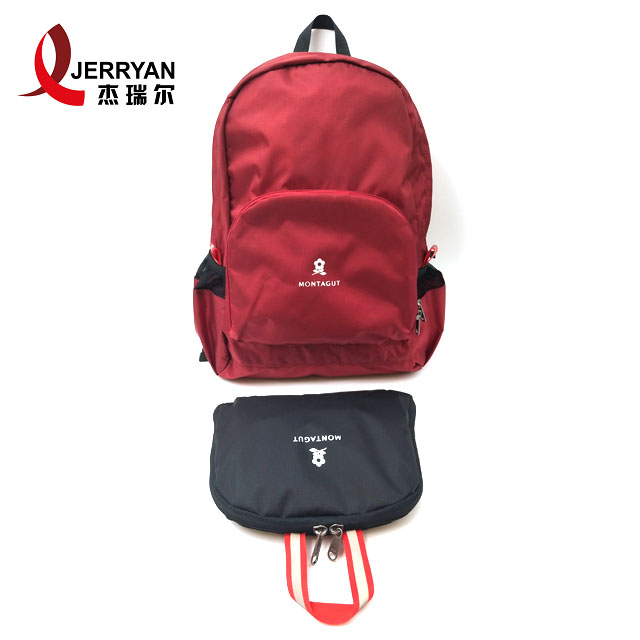 Nylon Backpacks
Nylon Backpack,Black Nylon Backpack,Small Nylon Backpack,Women'S Nylon Backpack
Guangzhou Jerryan Leather Co.,Ltd , https://www.jerryanbag.com